As the end of summer approaches, kids are getting ready to head back to school, parents are thinking of what to pack in their lunches to keep kids interested AND healthy while savoring every last minute of sunshine fun this season offers.
Please keep sending your questions, suggestions, and thoughts. I read every email and messages via social media and try to answer each and every one of you.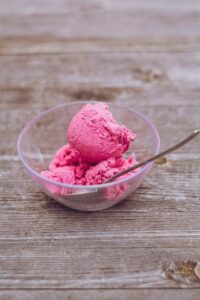 Dear Mo,
I'm a creative entrepreneur and juggle a LOT of hats. I really want to prioritize my health and cut back on sugar but I don't have any free time to work with a health coach. There's so much free information out there yet I'm curious about the benefits of working with a personal health coach and what the time commitment would look like. Is this even doable for someone like me? In the meantime, I've seriously got to cut back on sugar.
Please help,
Mollie
Dear Mollie,
Thanks for writing and I'm happy to share my thoughts on why people need a personal Health Coach, especially during this time of information overload. I've also included a Morselicious Beet Nice Cream recipe to satisfy your sugar cravings minus the sugar. (It compliments Barbie's dream kitchen, lol)
"Why You Need a Personal Health Coach especially in the Age of Information Overload"
In today's information overload, here's no shortage of health advice. From blog posts to YouTube videos to Instagram influencers, it seems everyone has a solution to your health issues even if they have zero qualifications. So, how do you know what works and what doesn't as you sift through the noise?
My answer is customized health coaching.
As a Certified Integrative Health Coach, I believe that each person/body is unique, with specific health challenges and goals. I understand the struggles of creative professionals and entrepreneurs like you, dealing with weight, diabetes, celiac, autoimmune disorders, heart health, menopause, and more.
That's why I offer a customized approach, providing one-on-one coaching, guidance, and support to help you navigate your health journey. This is a partnership designed to accelerate your path to optimal and sustainable health.
Give yourself the gift of self-care today and schedule your free consultation to learn the benefits of what I can do for you as your personal health coach and why it could be the game-changer you've been looking for. Remember, I'm also available for couples, buddy, and group coaching.
And, for those of you who prefer to work through my programs on your own time, check out my Sugar Weaning Workshop Part One and Part Two.
Check out a few testiMOnial's from clients:
"When I reached out to Maura (Mo) for help I was so hooked on
sugar, I never felt energetic or good and I was 10 pounds heavier
than I am now. I am now lighter in multiple ways and more
mindful of my food. I eat more "REAL" food and though I haven't
cut sugar completely out of my diet, I'm eating way less of it and
being realistic in my goals. I feel more energy and have more
skills in the kitchen to feed myself and my family. She was never
critical of me during my process, she was always my cheerleader.
I highly recommend spending time with her to get back on track
for better self-care. Thanks so much, Mo!"
-Karen Parks, Studio City, CA
"Maura, a.k.a, Mo, the Morselist, is a one-of-a-kind nutritionist! I
find her to be extremely knowledgeable about nutrition and
anything to do with health! I have learned so much from our walk
through the grocery store as well as our cooking lesson in my
kitchen. I thought I knew what "healthy" meant but have learned
to read food labels even more carefully and are that much more
aware. I also am more comfortable in the kitchen and find myself
able and excited to cook more meals even my children love, since
meeting with Maura! She has definitely enhanced mine and
my family's lives!"
-Renee M. Los Angeles, CA
"The best part of working with Mo is her non-stop belief in you
and your potential. She has and continues to believe in me, even
when I don't believe in myself which is more important than any
of the other tips, tricks, recipes or recommendations that she has
given me. I was quite skeptical about working with a Health
coach as someone who has struggled with weight my entire life
and tried every diet under the sun. Mo has helped me retrain my
focus. It's about health—weight loss is just a by-product. She is
helping me become a better version of myself, and that is the
ultimate gift."
-Emily H., Michigan
Now, onto my Morselicious Beet Nice Cream recipe:
Beet "Nice" Cream
Ingredients
6 Roasted Beets, cooled
2 cups Coconut cream, full-fat
1 cup Unsweetened Vanilla Cashew milk
1 tsp ground vanilla beans or 2 tsp unsweetened vanilla powder
Pinch o' Stevia or monk fruit
1 cup crushed ice, more or less depending on desired consistency.
Directions
Once the beets are roasted, let cool OR if you buy pre-roasted, simply add to your high-speed blender or food processor. In a medium-sized saucepan, heat the cream, milk, vanilla and sweetener of choice. Bring to a light simmer. Remove from heat. Let cool for a few minutes and add to the beets in blender. Add ice and blend into a thick "cream" or shake consistency. Serve immediately or let freeze up to a few hours. Be sure to let thaw a bit to prevent iciness as there are NO binders in this recipe.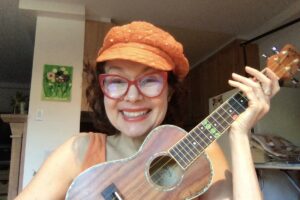 And for some fun ukulele progress by yours truly. Week 5 & 1/2 of ukulele classes and gearing up for my first concert performing this very song.
Music and art not only heal and helps improve our brain health, it brings pure joy thus improving our overall health and wellness, a vital ingredient in your Morselicious Life Pie.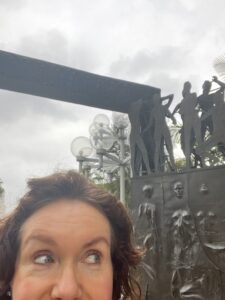 Be sure to find some fun "me" time before the summer ends. Find some fun outdoor activities, hikes, beach or garden walks, concerts, rafting, tubing, rollerskating, super-slides… share your favorite summertime outing. Better yet, send me a photo and with your permission, I'll post in the next newsletter.
xo,
Mo