Happy 2023, & Lunar New Year!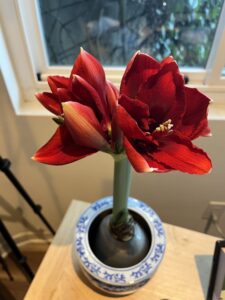 Some of you are familiar with my mantra this year, "2023, set me FREE!" What is yours?
Have you chosen your WOTY, Word of the Year?
I chose two; Breakthrough and Transform.
This glorious red Amaryllis was a gift from a wonderful friend who calls these her Christmas Miracles, and indeed, she was right. However, mine just bloomed on January 21st, so I'll call it my New Year Breakthrough Transformation!
This is what the Amaryllis looked like when she gifted it to me on Christmas. By the way, the lucky colors according to Feng Shui this year are Fuschia, magenta, azure blue, and green and I'm in fashionista color heaven!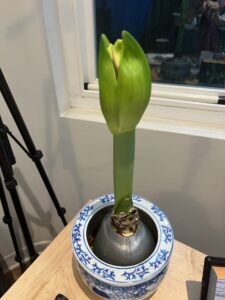 When I begin my sessions with clients, I often ask these questions;
What went well last year?  Month? Week?

What is the number #1 thing you'd like to be held accountable for this month?

What would you like to look different? What could have gone better? What health/Morselicious Life Pie goals would you like to prioritize in 2023?
I encourage my health coaching clients to make bite-sized, ie. Morselicious goals, easy to implement and sustain. Here's a fun challenge for you to try:
Incorporate as many "J" veggies into your diet this month, veggies that begin with the letter "J." Admittedly, I had to dig deep, pun not intended, for a good list of these:
Jerusalem Artichokes
Japanese Sweet Potatoes
Japanese Mustard Greens
Jicama
Jackfruit
Jalapeno Peppers
Jacaranda (Just kidding, wanted to make sure you're still with me) 🙂
Can you think of a few more? Please share in the comments on Instagram, Facebook,  or send me an email. Don't forget to keep sending your Dear Mo questions. I love hearing from you!
Dear Mo,
My Mother's doctor told me that as we age we lose appetite but always crave sugar. Mom is 81 and that is definitely the case there is always candy in her home.
I know that apple sauce is a replacement for sugar but what about dates? There are so many sugar replacements but I'd like to get to the healthiest option and get Mom off Reese's peanut butter cups.
Thank you,
Poppy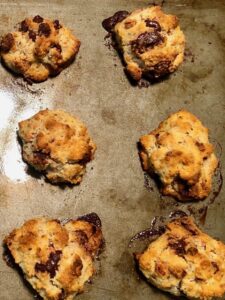 Dear Poppy,
Thanks for sending your question, and yes, sugar is the almighty present drug of choice for so many of us, myself included.  My approach to sugar-weaning is to find alternatives to satisfy cravings with real, whole foods; ie. healthy fat, fiber, and clean protein. Case in point, my Morselicous chocolate peanut butter cups are satisfied by the highest dark chocolate bar or chips I can find stirred into a mini or small ramekin with organic unsweetened peanut butter, sometimes sprinkled with cinnamon for extra sweet spice, and chia seeds for extra fiber, and protein. Dark chocolate and peanut butter contain healthy fat and fiber and peanut butter contains protein. I also make these pictured chocolate peanut butter morsels.
This is my go-to dessert at least 3 nights a week and let me tell you, it hits the spot! Try it and let me know what you think. I love 100% cacao/cocoa but it took me a while to retrain my taste buds. Start with 80% or higher, 75% if 80% is too bitter to start. Be sure to choose REAL peanut butter, not the sweetened kind. As far as other sugar cravings, the Morselicious rule still applies, create a treat that includes healthy fat, clean protein, and fiber.
Book your free health coaching consultation with me to learn what you could gain by working with me.
Can you guess what the challenge for Festive February might be?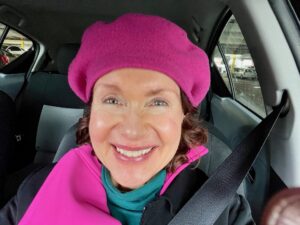 Love and Morselicious hugs,
xo
Mo