Happy Morselicious Monday and National Nutrition Month! I am thrilled and honored to share a post by my friend and colleague of Gone Veg Creative Agency, Ashley Vincenti. Enjoy…and thank you, Ashley!
– Mo, The Morselist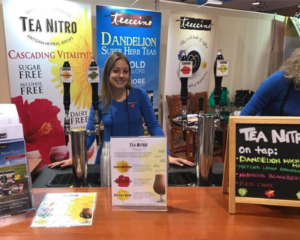 This past Saturday I was able to attend Natural Products Expo West courtesy of Teeccino, the chicory herbal tea/coffee alternative. I have had so much fun managing Teeccino's Ambassador program since 2012 – of which our lovely friend Mo is a superstar, honorary member. Teeccino's newest creations featured this year are 4 brand-new certified gluten-free Dandelion flavors, and Tea Nitro, which is – you guessed it – nitrogenated Teeccino – an artisan brew in flavors like Red Chai, Hibiscus Blackberry and Matcha Lemon Ashwaganda!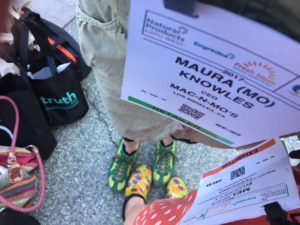 I was very excited to meet up as planned with my sweet and sassy friend Mo, who has been an incredible supportive force for my health, career and life since we met 5 years ago. After working closely with Mo on social media and online marketing for her 1g sugar, gluten-free Mac n' Mo's Morselicious Treats, I took some time off for pregnancy and baby – but now that he's a full-grown toddler – it was time for me to head back to Expo and reconnect with my friend and colleague. I'm so thrilled I did!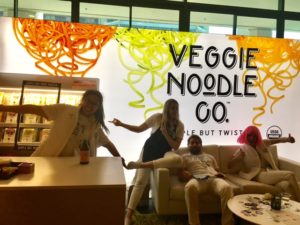 Cruising the aisles of the Hilton's 'Fresh Ideas' exhibit (for mostly new, up-and-coming companies) we felt lucky to come across so much deliciousness and so many innovative entrepreneurs! Our first tasting was at Veggie Noodle Co. – they made the most amazing spiralized veggies 'noodles', paired with vegan herb cheese. We were instantly in vegan, gluten-free heaven!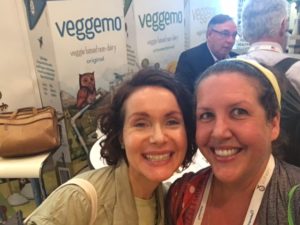 Right next door was Veggemo – a new vegetable-based vegan milk that had a wonderful flavor and is truly made entirely from vegetables! A seriously amazing flavor and concept. When you see Veggemo at your local health food store – or request it – pick some up and enjoy a cup o' Veggemo with your Mac-n'-Mo's! Talk about a delicious and nutritious treat!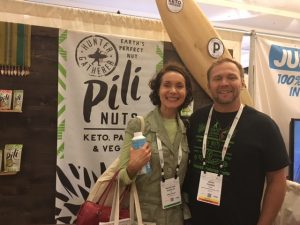 Next, Mo introduced me to her good friend and owner of Pili Nuts, Jason Thomas. Pili nuts are wild harvested in the Philippines and have the lowest carbs and highest magnesium of any nut. They are similar to macadamias, but with a whole different complexity of flavor!
Speaking of macadamia nuts – OH was I happy to discover 'Milkadamia' at Mo's suggestion – a delicious vegan nut milk that was smooth, creamy and perfectly mild. The team was awesome to talk to – and fans of combining their product with Teeccino, as it turns out!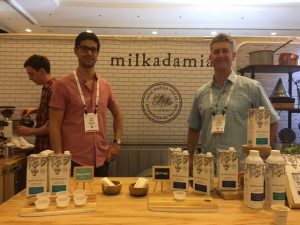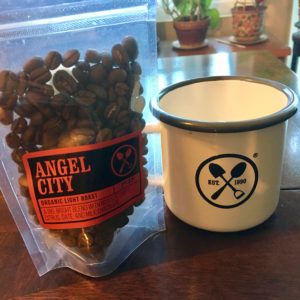 Next we headed to Ground Work coffee, a local L.A. favorite of Mo's – and enjoyed their amazing organic cappuccinos and nitro coffee. Mo got some whole beans to roast at home – and a tin mug as a gift! So sweet – THANKS, ladies at Ground Work!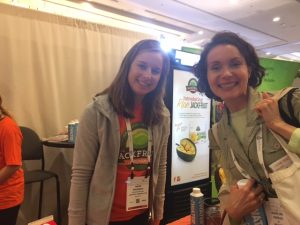 Finally, we enjoyed the delectable creations of The Jackfruit Company, who were interested to learn that Mo's original recipes (including a few with jackfruit!) are featured on Vitacost. Marie was definitely intrigued and even gave us two matching company shirts! Stoked!
Before we knew it…the day was done, and it was time to drive back! Mo helped me find my car at the Angels stadium lot and we went back home to relish in all the excitement and new discoveries. I had to take a pic of the banner as I was leaving the stadium. So sweet, and so true. Until we meet again, Mo! Thank you for the truly fun and fabulous time at ExpoWest.