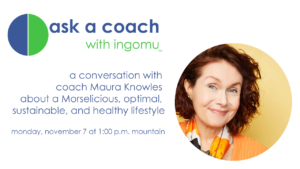 Happy November!
I'm thrilled to share this inspiring Gratitude Calendar/Challenge which I found on a friend's Facebook page. Won't you join me? Raise your hand if you're grateful for the extra hour we got on Sunday! There are so many people and things I'm grateful for especially this past year during the most painfully challenging year of my life.
I'm hopeful that this leg, pun not intended, will be the real step in recovery from my numerous setbacks.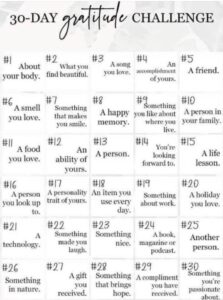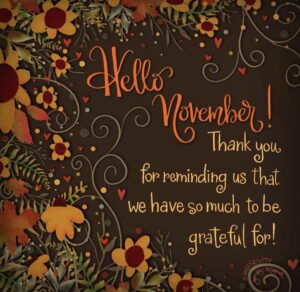 Here are a few:
I'm excited to be back on stage, in rehearsals for a musical staged concert of Brigadoon with the Musical Theatre Guild.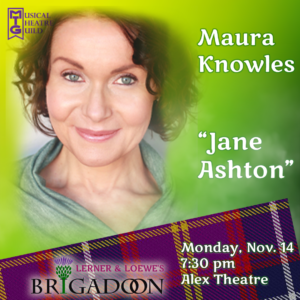 Art heals and remember integrative health and my Morselicious Pie approach to my Health Coaching focuses on ALL areas of your life not only what you eat but the other vital ingredients that make you, YOU! Singing/performing/creativity is a vital ingredient for my optimal healthy life. What are some of yours?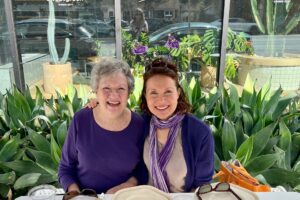 My mom came to visit me and we had a Morseliciously marvelous time! We celebrated my dear late dad's birthday near the ocean and gave him a heartfelt taost. In addition to Thanksgiving/my birthday, November is also Diabetes Awareness month. Please spend some time to educate yourself and spread awareness. I long for the day they find a cure. Speaking of…today is Election Day! Voting is a privilege we haven't had for very long so please exercise your right and VOTE! "Not voting is voting to hand your power over, to throw it away and give it to somebody whose interests are going to be harmful to your own." – Eric Liu. This also applies to your health!
A number of you have asked me to share more about my health journey especially this past year, or 11 months and 5 days to be exact, not that I'm counting. I'm working on putting together a cohesive story.
Yesterday I had the honor of being interviewed on Ingomu's TV/Radio show.
In the meantime, this month's Dear Mo question is a fitting segue.
Dear Mo,
I've recently been diagnosed with osteoperosis and want to know what tips you can give me to build/maintain my bones from getting weaker.
-Katie G.
Dear Katie,
Thank you for your question and you're timing couldn't be more perfect as I have recently discovered I have fragile bones, a side effect of celiac disease and menopause. In addition to listening to your doctor's advice/protocol to increase your calcium, please confirm with him/her that your body is absorbing the calcium. I surprisingly learned that despite taking calcium supplements since college, consume a diet rich in dark leafy greens, nuts & seeds, power-walking, hiking, along with weight-bearing exercises, my body was NOT absorbing calcium. Please see this informative article by Harvard regarding calcium absorption/bioavailabilty. I suggest that you increase your walking and weight bearing exercise, if you're not already eating a diet rich in dark leafy greens, unsweetened almond milk, almonds, winter squash, sardines, salmon with bones. And, yes, I eat canned wild salmon with bones.
I hope that helps, Katie. Please keep me posted and keep the questions coming.One mo' tip for everyone this year, consider making a simple dark leafy green dish this year for Thanksgiving, for example, try my salad with pumpkin seeds or lemony steamed kale.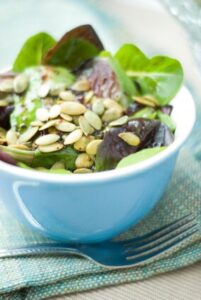 Mixed Greens & Pumpkin Seed Salad
Serves 1-2
Ingredients
Baby kale
Baby spinach
Mache
Red leaf lettuce
1/2 avocado, diced
1/3 cup toasted pumpkin seeds
Fresh basil
Balsamic Dressing
1 Tbsp. extra virgin olive oil
1/2 cup balsamic vinegar
1 Tbsp. stone ground mustard
Juice of ½ lemon
Black pepper to taste
Directions
1. Combine salad ingredients in salad bowl; toss lightly.
2. Combine dressing ingredients in small bowl; mix well. Pour dressing over salad.
Wishing all of you a Happy Morselicious Thanksgiving! I'm thankful for you!
xo,
Mo