Mac–n-Mo's Morselicious Treats were created out of love by Mo (that's me) for Mac (that's my Dad).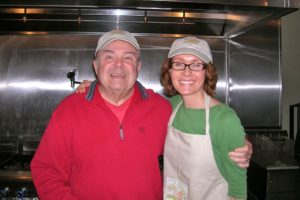 In February 2010, my Dad survived two massive heart attacks and underwent a quadruple bypass surgery. The operation was successful, and he was discharged with very clear and strict dietary guidelines. To further complicate things, Dad is a diabetic.
Low salt, low sugar, low fat, low cholesterol, plant-based, more fiber. None of this, some of that. More of this, less of that. Thus began Mo's jingle's:
Cookies have eggs, sugar, butter and fat. Mac-n-Mo's have none o' that!
Dad's new diet proved to be a giant challenge, and he craved baked goods. One Saturday morning in March, he begged me to bake something sweet. My challenge was to find all-natural ingredients with no preservatives, very little salt, no added sugar, high in fiber, etc. Mom and I went to several grocery stores, and I searched for as many tasty "legal" ingredients as I could find.
By the third store, Mom asked, "What do you plan on making with all this?" Shrugging my shoulders, I replied, "I have no idea, but I'm going to do my best to create something magical (which soon became 'MORSELICIOUS') for Dad."
After mixing many batches, we found a winner. Mom, my sister, and I devoured them and most importantly, Dad relished each morsel, exclaiming, "These are magic!" Translation: MORSELICIOUS! We shared some with our friends, and soon I was taking order requests.
After Mo started getting countless requests from customers and fans wanting to be able to create their own healthy treats, she started making her Morselicious Mix available to the public. It is a completely natural mix of brown rice, almonds, unsweetened coconut, flax and spices. In addition to selling her Mix and Morsels,
Mo graduated from the Institute of Integrative Nutrition (IIN) and became a Board Certified Health Coach (AADP). She has since written two cookbooks which utilize her Morselicious Mix in several of her recipes, allowing everyone the opportunity to be MORSELICIOUSLY healthy at home!
I hope you enjoy Mac-n-Mo's Morselicious Treats and Mix as much as we do.
-Mo
Also please check out my NEW Healthy Coaching Site