Happy MORSELICIOUS MARCH MONDAY!
What are your MORSELICIOUS goals, plans for March, National Nutrition Month and home to St. Patrick's Day, the GREENEST day of the year!

In honor of the green, please use my coupon code "TENMO" for 10% off the entire month of March for your entire MORSELICIOUS order when shopping  http://shop.macnmos.com/main.sc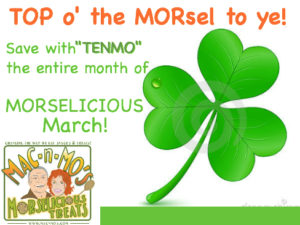 Remember Reece Holland's September guest post, The Average Shopper?  Back by popular demand, Reece has mo' MORSELICIOUS info to share with my favorite MORSELITES.
Please keep your comments and questions coming and I'll keep trying to provide you with your requests.
Thank you, Reece and now onto his post:  YOUR AVERAGE SHOPPER
Okay, last time we spoke, I told you all about a few new items I came across at my local Ralph's market that surprised me. I have found a couple more since then that I think might interest you.
One of my favorite things to eat is pasta; however, my system doesn't tolerate the gluten/wheat very well so I am always looking for alternatives. In my previous posting I told you about this wonderful quinoa pasta that I found (still one of my favorites). To backtrack just a bit, my partner has just undergone treatments for tonsil cancer. Everything has gone extremely well (thank you for thinking to ask); however, he lost a lot of weight and getting food down him has been a challenge. The quinoa pasta doesn't get quite soft enough for him and we found that rice has been a good solution, but you can't live on rice alone (no matter how many ways you try to do something different with it). I am always on the lookout for something else. Recently, I was walking in my Ralphs's (again) and came across Tinkyada brown rice pasta. This was a spaghetti style, but it comes in several different pasta varieties. I have seen it in the past and, honestly, because it is a darker pasta, I didn't think Gary would like it* so I haven't ever tried it. This time, for some reason, I picked up a bag of it.
Last week for dinner I thought, why not, so I cooked it up. Lo and behold, when it cooks, it turns lighter like a regular pasta. I served it drizzled with some walnut oil and some no-salt pasta seasoning that a very good friend gave me (Not that I am pushing any particular brand, but these were NSA Seasonings and they are definitely worth Googling! I know my Ralph's doesn't carry them [although they have other no-salt added spices]) but the Morselist might know where else they are available.  MORSELICIOUS!
It was a huge hit! I didn't even tell him that it wasn't regular pasta and he had no idea. He actually asked for it again. Phew. Since then, I have made it a couple of times and he still thinks he's getting regular pasta (he's also gained 6 lbs!!).
Since I'm on a pasta theme, normally, I like to make my own sauce so I know what's in it, etc.; however, as we all know, sometimes when you've had a long day at work or running errands, you're really not in the mood to cook. You just want something simple. Walking through my grocery store, I decided to look through the different pasta sauces to see if there were any I might actually be able to try without choking on all of the salt preservatives.
If you've never done it, I would like to urge everyone to actually take a couple of moments to read the ingredients and nutrition label of some of the pasta sauces out there. I think most of you would be very surprised to find out what is in them! One sauce I came across was Mario Batali's Tomato and Basil Pasta Sauce. The first few ingredients listed, imported San Marzano tomatoes (from the Sarnese-Nocerino area of Italy), extra virgin olive oil, herbs and spices. Yes, there is always going to be some degree of sodium since it's in a jar, but it was SO much less than any of the other sauces I found. He also adds NO sugar to any of his pasta sauces – AND it tastes good! I have tried it over the brown rice pasta and over rice. Thank you Mario.
Okay, that's it for now. I will keep my eyes open for anything new and healthy in my "average" grocery store.  If there is something you have come across, I know Mo would love to know about it as well!  Drop her a comment below!! Until next time . . .
*Okay, I live with one of those people that, if it looks too healthy or if it's too far off track from what they grew up with, it's just not going to happen. I have always had to find sneaky ways to get in healthier food. It's almost like living with a very large 6 year old. Don't bring him a pea or any broccoli, BUT if you puree them into something else or mask them with something else, they will never know! It takes a lot of practice (I have actually incorporated broccoli into a pesto sauce along with my basil – he never knew).